XVII INTERNATIONAL MASTER CLASS OF RAINA KABAIVANSKA
HAPPY BIRTHDAY, RAINA KABAIVANSKA!
Kabaivanska School NORMA performance - final stage
New Bulgarian University

presents

XVII International Master Class of RAINA KABAIVANSKA

(6-24 September, 2017), at Sofia Opera and Ballet House

Audition: September 6

Master class: 7-23 September

Gala Concert: September 24 – 7 p.m.

For registration: http://www.rainakabaivanska.net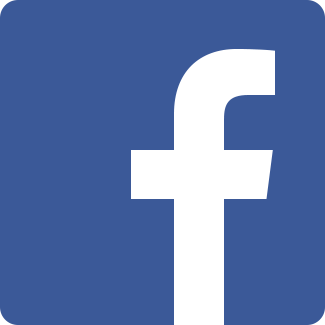 Official Site: rainakabaivanska.net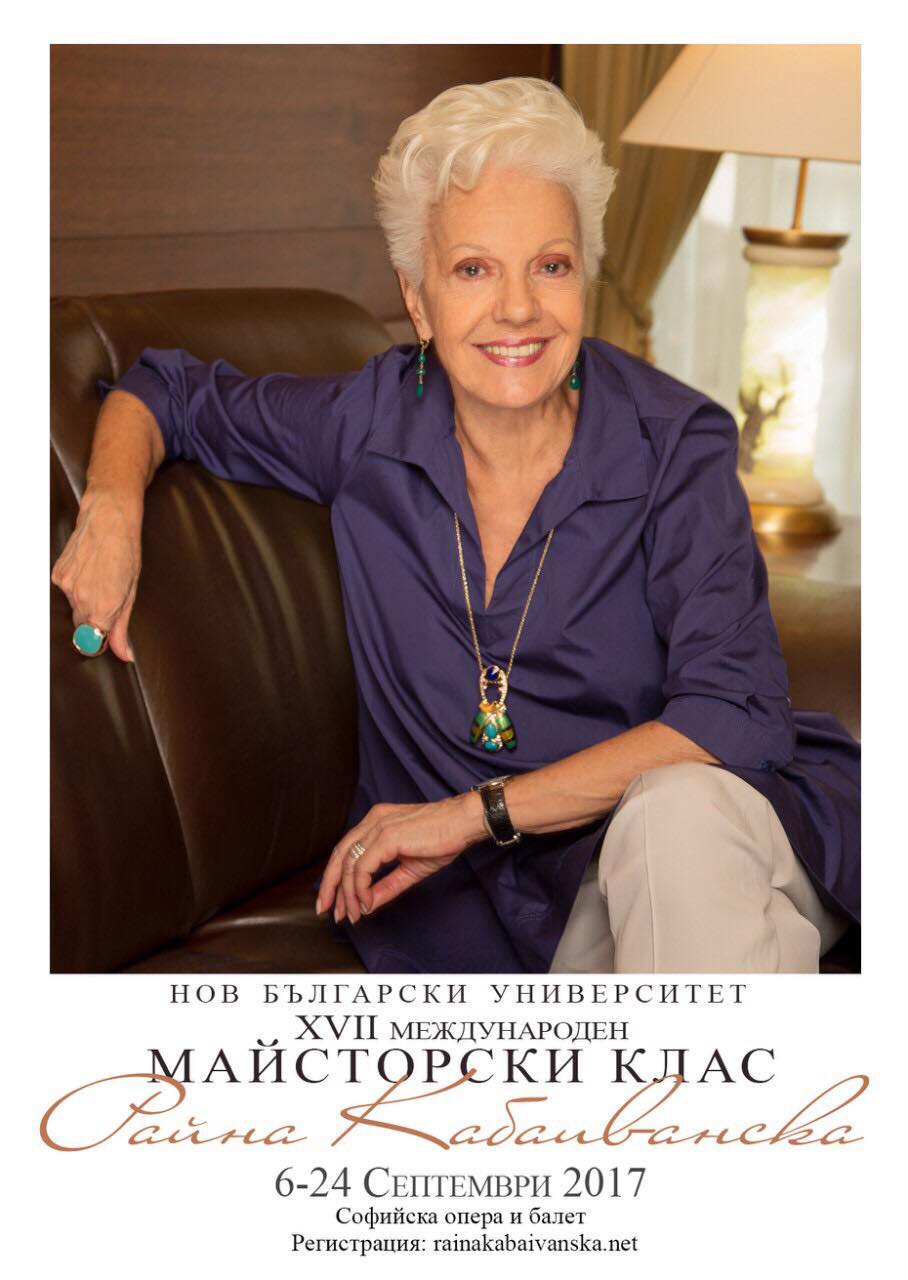 In her Master Class Raina Kabaivanska will work on improving the participants vocal technique and interpretation of pieces chosen by themselves.

Eligible Applicants: professional musicians or current students in Academy / Higher Institution of Music up to 32 years old. Each applicant should choose and prepare five arias for the audition.
The most successful participants in the Master class will receive scholarships from the Raina Kabaivanska Fund for training in Italy.

During the audition and the following Master Class Raina Kabaivanska will also choose young talented opera singers for leading roles in the opera "Norma". The performances of the great director Hugo de Ana will be presented in October 2017 at Sofia Opera and Ballet.

"Norma" will be the fourth project following "La Boheme" (2010-2012); "Werther" (2012) and "Turandot" (2016). The whole entire project is a continuation of the initiative of Raina Kabaivanska to support the promotion of young talented opera singers as well as scholarship holders who benefit from the Raina Kabaivanska Fund on the international opera stage.
Тhe Master Classes

One of the main contributions of university education is that it helps establish and develop schools of thought named after prominent figures in science and art. Nowadays, the musical and academic communities talk of the Kabaivanska School. For more than 15 years she has been teaching the younger generation of opera singers the extensive heritage of the classical opera theatre. The Vecchi-Tonelli Music Institute in Modena, Accademia Musicale Chigiana in Siena and New Bulgarian University are the main institutions privileged to develop the Kabaivanska School.
Over the years, Raina Kabaivanska's Master Classes in singing and interpretation in Italy, followed by those in Spain, France, Sweden, Bulgaria, Russia and Japan, have created a network of music academies, theatres and universities, following the classical vocal traditions of the Italian bel canto. Having auditioned more than 50 applicants from Europe, America, Asia, South Africa and Australia for each Master Class, Raina Kabaivanska singles out 12 gifted young performers. "I have to be alert," Kabaivanska has recently noted in an interview explaining how she picks her students. "I need total concentration since for me it's crucial to be able to identify the slightest sparkle, where an artist resides. Everybody can sing, everybody can boast a good voice; however, you need insight to see beyond that and discern intelligence beneath the agitation. Back in my time, the 1960s, one could build a career solely relying on a big pleasant voice; nowadays however, we're at a totally different stage—the stage of philological reading of music. And it's being meticulously read from the point of view of the Тhe Master Classes.
Kabaivanska's Master Classes are an interactive way of training, enabling young singers to get in touch with the great art of one of the legends of contemporary opera theatre, to further upgrade their singing technique and to work on the interpretation of new roles. The intercultural exchange and the tough competition, which are at the basis of the Kabaivanska School, put students not only in the shoes of trainees, but above all of creators.
Raina Kabaivanska is someone who is endowed with the gift not only to be a great artist, but also to be a teacher in the broadest sense of the word mainly due to her tremendous talent, as well as her extraordinary generosity. The way she views teaching, in her own words, is as "a duty to continue the traditions in a great art". Her ambition to share her experience without viewing her students as a continuation of herself has always been impressive.
What is of primary importance to her is to bring out their individuality. What's more, she is exceptionally meticulous in her approach to the composer. "There are two trends," Kabaivanska says, "either to adhere to historical traditions, established by the capabilities of the performers and the personal perception of the conductor, or to read the composer's manuscript. I would go with both trends since one of the reasons why audiences come to the theatre is also to experience the personal interpretation of the artist. And I must admit that all my fans that I meet after so many years, often say to me 'Thank you for the emotions you gave me'. Therefore, I do not view my students as a continuation of myself—I am truly happy that I still have an ear for each particular case."

Something else that distinguishes Kabaivanska's classes is the link established between the continuous process of training and the big stage. Raina Kabaivanska not only scouts talents, cultivates and develops them, but she is also instrumental in bringing them to the international opera stage. Since 2001, New Bulgarian University has been one of a whole network of institutions involved in the development of the Kabaivanska School by organizing Master Classes, whereas the Sofia Philharmonic Orchestra and the Sofia Opera have acted as partners. Upon the completion of each cycle of master classes, her most distinguished students perform at a gala concert with the special appearance of Raina Kabaivanska herself. The directors of opera theatres, organizers of competitions and festivals, representatives of artist management agencies, as well as national and international media are among the audience at those concerts. During the concerts, Raina Kabaivanska awards scholarships for training in Bulgaria and Italy.
In 2010, initiated by Raina Kabaivanska and under the auspices of New Bulgarian University, a project entitled "Raina Kabaivanska presents her students at the international opera stage" was launched in Sofia. The project began with the production of the opera La bohème featuring Raina Kabaivanska's students from Bulgaria and Italy in the leading roles. After six superb performances of the opera La bohème on the stage of the Sofia Opera in 2010 and 2011, Raina Kabaivanska's scholarship holders participated in two performances at the Teatro Comunale Luciano Pavarotti in Modena, Italy, in January 2012. In December 2012, a second opera performance was staged— Werther by Jules Massenet in collaboration with New Bulgarian University, the Sofia Opera and the Théâtre Royal de la Monnaie in Brussels, Belgium.
Among her students and scholarship holders who have achieved world fame are Veronica Simeoni, Maria Agresta, Andrea Carè, Virginia Tola, Vittoria Yeo, Sofia Soloviy, as well as younger singers such as Maria Radoeva, Kostadin Mechkov, Anton Markov, Yasko Sato, Pritty Yende, Cristina Baggio, Cinzia Chiarini, Matteo Desole, Elisa Barbero, Ana Petricevic, Anaïs Mejías and many others.
George Tekev, Ph.D
Manager of the Master class
E-mail: gtekev@nbu.bg