MASTER CLASS OF PROFESSOR LUDMIL ANGELOV
FOURTEEN PIANO MASTER CLASS OF PROFESSOR LUDMIL ANGELOV
"THE GREAT PIANISTS-COMPOSERS"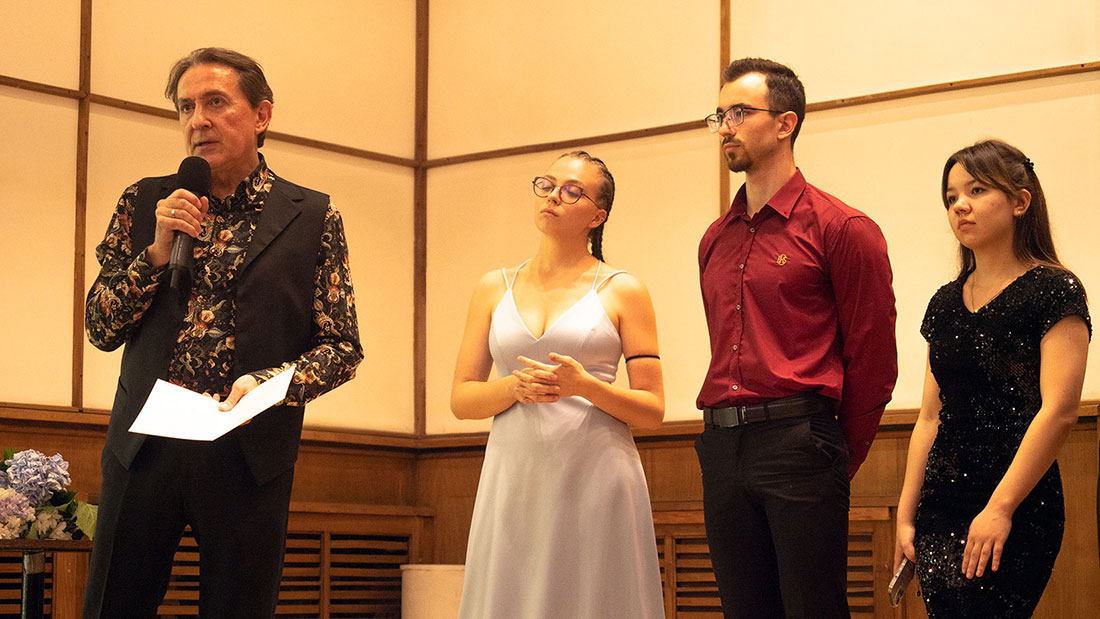 Application deadline: 30.06.2023
Audition: 04.07.2023 at New Bulgarian University, Hall 506, Building 1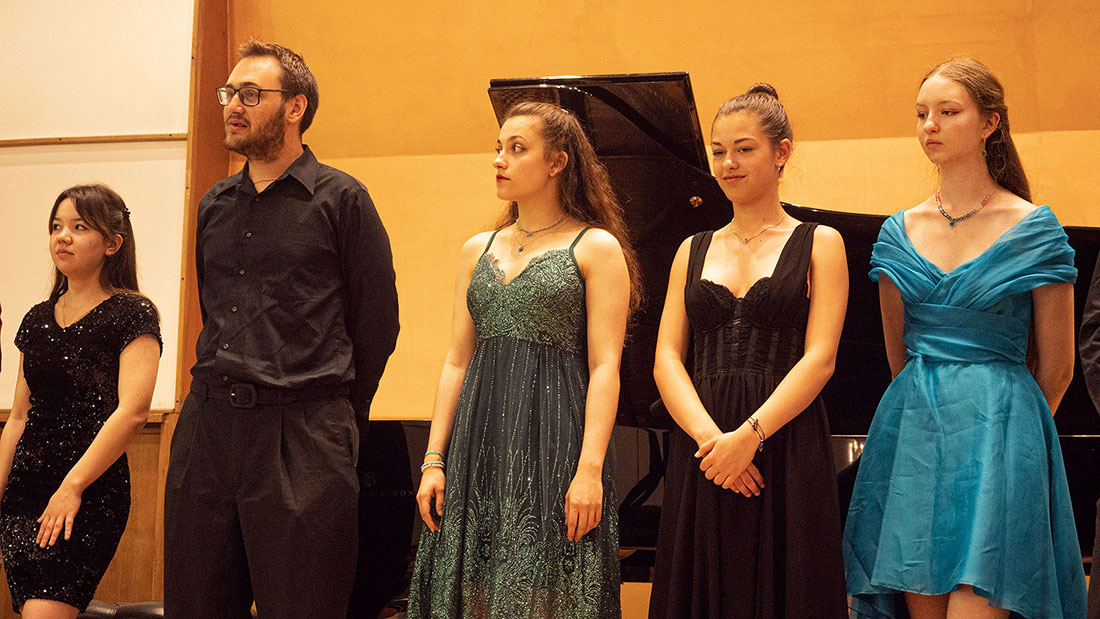 Master Class: 04-15.07.2023, New Bulgarian University
Gala concert: 15.07.2023, Chamber Hall "Bulgaria"
Fees:
Audition fee: 50 BGN (25 EUR)
Active participants: 300 BGN (150 EUR)
Secondary students: 150 BGN (75 EUR)
Visitors (single entry): 5 BGN (3 EUR)
Account details for online payments:
New Bulgarian University
UBB Branch Sv. Sofia
7А "Sv. Sofia"St
ВIС UBBSBGSF
IВАN BG44UBBS378271010551907
For information: +359 2/8110268, e-mail: mstoyanov@nbu.bg
Regulations:
Eligible applicants are music students or graduates at the age 14 – 30, or young pianists with distinguished qualities who are not music students;
Applicants perform one virtuoso etude and one work by a pianist- composer of their choice (up to 10 minutes);
Successful applicants should prepare one or more works different from those chosen for the audition, but in line with the topic of the master class;
After the audition 15 applicants will be selected for active participation in the master class;
The best performers will participate in the final Gala Concert;
The participant who demonstrated extraordinary performance in the course of the master class will participate in a concert in Bulgaria, Poland and Spain.
There are additional special prizes for the best participants. They will be invited by the Bulgarian Cultural Centers to play with leading orchestras in Bulgaria and abroad;
All participants who graduated the Master Class will receive a certificate of the New Bulgarian University;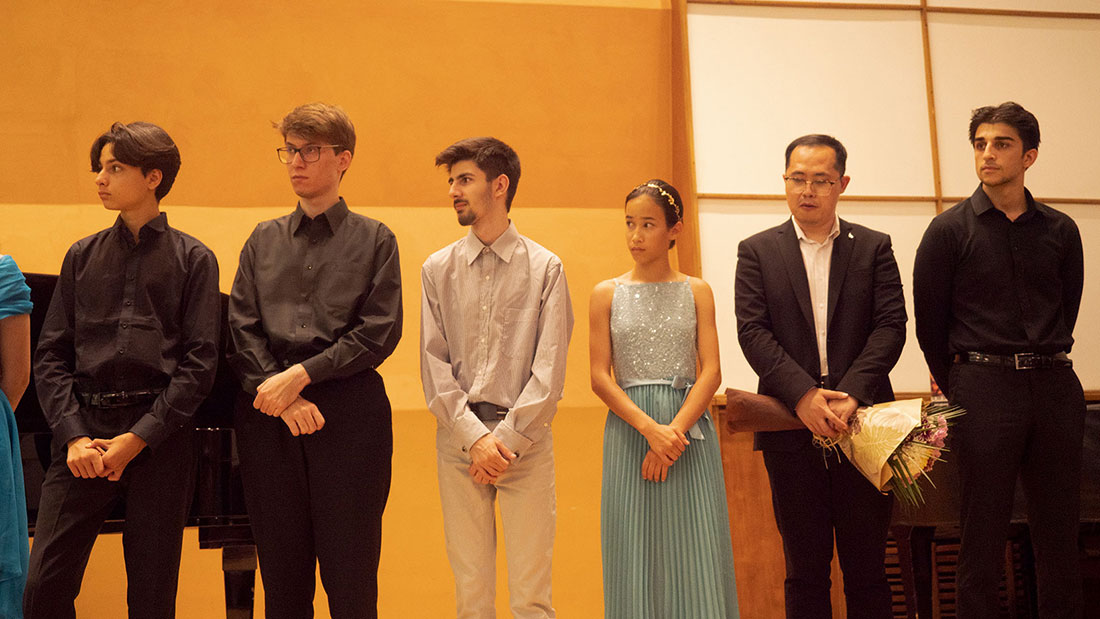 Application procedure:
Please fill in the registration form from www.nbu.bg, till 30.06.2023
Via e-mail: please complete the registration form and submit it to; mstoyanov@nbu.bg ;
Scholarships/Awards
Participation in a concert with a symphony orchestra during the next musical season
A Scholarship for covering the tuition of one course at NBU by prof. Angelov
Participation in a concert during one of the following Bulgarian festivals: "Piano Extravaganza" or "Sofia Music Weeks".
Participation in a concert at City Mark Art Center, Sofia
LUDMIL ANGELOV
Born in Varna, Bulgaria, Ludmil Angelov graduated at the Pancho Vladigerov State Music Academy in Sofia. His teachers were Viktoria Spassova, Ludmila Stoyanova and the phenomenal pianist and pedagogue Konstantin Stankovich, former assistant of Pancho Vladigerov in his piano classes. He won prizes and diplomas at international competitions, including the Senigallia (Italy, 1976), Fryderyk Chopin (Poland, 1985), Palm Beach International Competition (USA, 1990), Piano Masters (Monte Carlo, 1994) and World Piano Masters Tour (France, 1997).
Ludmil Angelov has performed at major concert halls, such as the Philharmonie in Berlin, Musikverein and Staatsoper in Vienna, Concertgebouw in Amsterdam, Pleyel and Gaveau in Paris, Teatro alla Scala in Milan, Lincoln Centre in New York, Alte Oper in Frankfurt, Herkulessaal in Munich, KKL in Lucerne, Zürich Opera, Salle Garnier in Monte-Carlo, Palais des Beaux-Arts in Brussels, Brucknerhaus in Linz, Auditorio Nacional in Madrid, Auditori in Barcelona, Palau de la Música in Valencia, the concert halls of the Moscow and Milan Conservatories, the National Philharmonic Hall and Polish National Opera in Warsaw, KBS Hall in Seoul amongst many others.
The music of Chopin has been a constant of his performing career. During the 1987–88 season he performed the complete solo-piano works by Chopin in a cycle of twelve recitals, a unique event for which he received the prize of 'Young Musician of the Year in Bulgaria'. He has also participated in some of the most significant Chopin festivals in Europe, including "Chopin and his Europe" Festival in Warsaw. In 1999 he presented, in a cycle of recitals, the complete works of Chopin in Madrid and other cities of Spain; ten years later, in the 2009–10 season he again performed the complete Chopin in Spain and Bulgaria. His recording of Chopin's Rondos and Variations was awarded a Grand Prix du Disque Chopin by the National Chopin Institute in Warsaw.
The labels for which Ludmil Angelov has recorded include RCA, Danacord, Gega New, Pentatone, Non Profit Music, Toccata Classics, Hyperion, Vela Records and Virginia Records. In June 2015 he recorded with BBC Scottish Symphony Orchestra the world-premiere recording of the recently discovered early Piano Concerto of Moritz Moszkowski for Hyperion.
Ludmil Angelov teaches at New Bulgarian University in Sofia, where he is a Honorary Professor since 2013. He gives masterclasses all over the world and has served as a Jury member at many International Competitions, including Chopin Competition in Warsaw (2010, 2015 & 2021). In November 2011 he was awarded the Gloria Artis medal by the Polish Ministry of Culture for his contribution to the international promotion of Polish music.
He is a member of the Royal Academy of Fine Arts of Toledo, Spain, where he directed Toledo International Music Festival for 21 years. He is also the founder of the festivals Piano Extravaganza and Cameralia in Sofia.
In 2011 the Academic Council of the New Bulgarian University awarded Ludmil Angelov with the prestigious title Honorary Professor for his contribution to Bulgarian music culture and its popularization in Europe and around the world. Prof. Angelov teaches regular courses in piano, chamber music and interpretation at the Department of Music at New Bulgarian University since 2011. In 2010, Professor Ludmil Angelov held his first Master class at New Bulgarian University. over these years, the partners of the Master class were Music Festival Sofia Music Weeks, TV 1, National Palace of Culture, Sofia Philharmonic, Piano Extravaganza Festival, Varna Summer Festival and others.
Additional information at: nbu.bg
NEW BULGARIAN UNIVERSITY
is a modern higher education institution recognized as organization with strong national influence and presence in wider international university networks. NBU was established in 1991 for meeting the need of a new liberal model of education.
The University initiates significant reforms in Bulgarian system for higher education - introduces educational degrees as such, the credit system, distance and web-based learning as well as possibilities for lifelong learning.
The academic profile of NBU covers the humanities, natural sciences, new technologies and arts. The University offers a lot of alternatives - programmes and educational models with practical orientation aimed at encouraging the free choice of students. Significant specialists are invited to become part of the lecturer's staff. The NBU bachelor, master and doctoral programmes are chosen by more than 13 000 students. The University creates favorable environment for development of civil society values and culture as well as for enhancing social responsibility, incl. possibilities for disbursement of different types of scholarships and mobility schemes based on European system for transfer of credits.
THE DEPARTMENT OF MUSIC AT NBU exists since the foundation of the University. Its creative work and research activities are in the genres of both classical and popular music- opera, folklore, music theatre, integration of music and new computer technologies. The department has tailored a Bachelor degree, Master's programmes: Interpretation (presented in Bulgarian and English); Composition and Conducting; Music Theatre and Dance; Producing and Management; Sound Engineering, and offers a PhD theoretical programme as well as a unique PhD programme in Performance. The teaching component at the Department of Music is comprised of renowned Bulgarian and international musicians and artists.
The School of Distance, Digital and Continuing Education oversees a variety of units providing alternative forms of education and teaching at New Bulgarian University. The School consists of the Center for Distance and Digital Education, Center for Professional and Continuing Education and IT Certification Center.
Distance learning programs employ a variety of modern teaching methods that include printed and visual course materials, video tutorials, self-study and consultations with course advisors.
Intensive (part-time) learning programs lead to Professional Bachelor's degrees. They take three years to complete and are offered only at the local centers in Varna, Vidin or Plovdiv. Classes are conducted in three consecutive days (Friday evening, Saturday and Sunday) with assessment of student work performed the following week. Students in intensive learning programs do not use coursebooks or the MOODLE NBU platform.
Our continuing education opportunities include programs of study, academic lectures and seminars, workshops, master classes and summer schools open for everyone with no restrictions to age or educational background. Available throughout the academic year, these intensive courses are practice-oriented and most of them are eligible for transfer credit in NBU's degree-bearing programs of study.