NINTH PIANO MASTER CLASS OF PROFESSOR LUDMIL ANGELOV

NINTH PIANO MASTER CLASS OF PROFESSOR LUDMIL ANGELOV
"THE GREAT PIANISTS-COMPOSERS"
10-22 July 2018
Application deadline: 5 July 2018
Audition: 10 July 2018, at New Bulgarian University, Hall 506, Building 1
Master Class: 10-22 July 2018, New Bulgarian University
Gala concert: 22 July 2019, 7 p.m., Chamber Hall "Bulgaria"
Fees:
Audition fee: 30 BGN (15 EUR)
Active participants: 250 BGN (125 EUR)
Secondary students: 125 BGN (63 EUR)
Visitors (single entry): 5 BGN (3 EUR)
Account details for online payments:
New Bulgarian University
UBB Branch Sv. Sofia
7А "Sv. Sofia"St
ВIС UBBSBGSF
IВАN BG44UBBS378271010551907
For information: +359 2/8110472, e-mail: mstoyanov@nbu.bg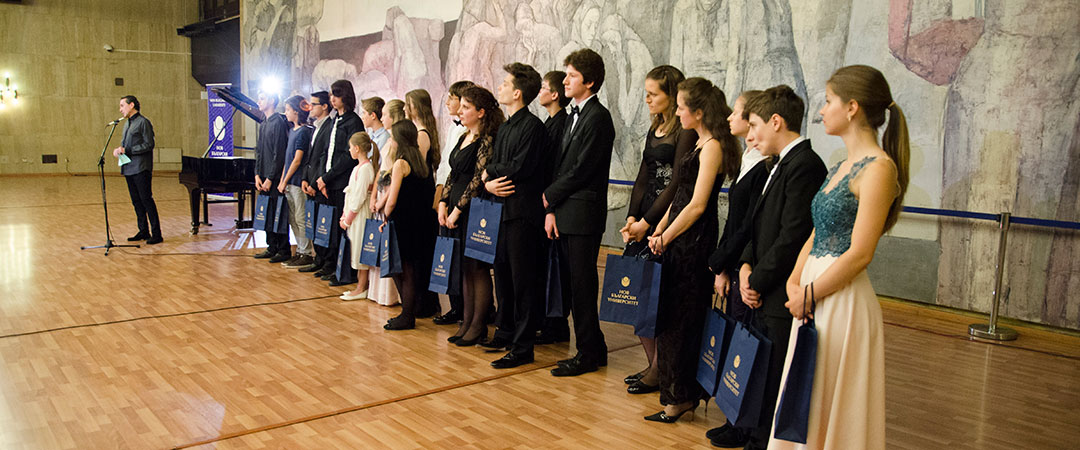 Regulations:
Eligible applicants are music students or graduates at the age 14 – 30, or young pianists with distinguished qualities who are not music students;
Applicants perform one virtuoso etude and one work by a pianist- composer of their choice (up to 10 minutes);
Successful applicants should prepare one or more works different from those chosen for the audition, but in line with the topic of the master class;
Applicants from abroad may send recordings of a concert performance by 1 July 2018 for the preliminary selection;
After the audition 15 applicants will be selected for active participation in the master class;
The best performers will participate in the final Gala Concert;
The participant who demonstrated extraordinary performance in the course of the master class will participate in a concert at the International Music Festival in Toledo, Spain.
There are additional special prizes for the best participants. They will be invited by the Bulgarian Cultural Centers to play with leading orchestras in Bulgaria and abroad;
All participants who graduated the Master Class will receive a certificate of the New Bulgarian University;
Master Class is open for audience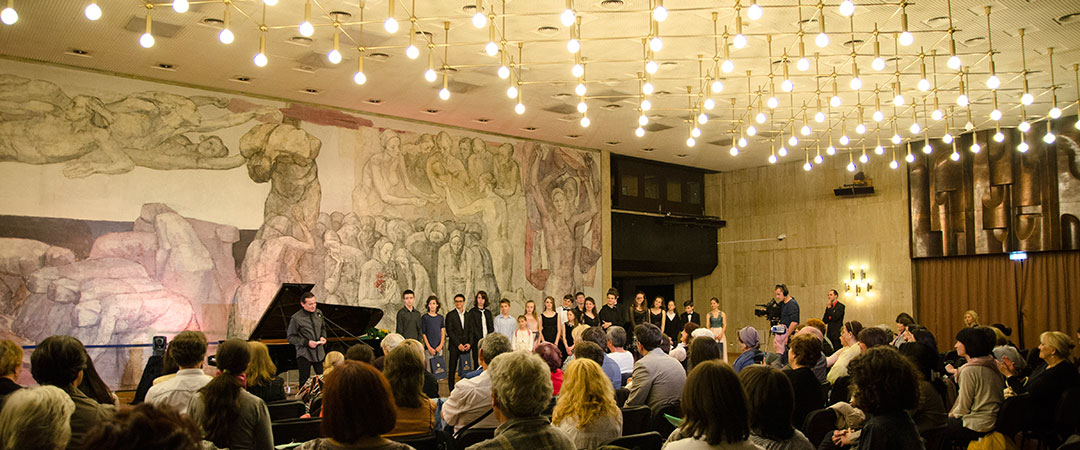 Application procedure:
Please download the registration form from www.nbu.bg
Via e-mail: please complete the registration form and submit it to; mstoyanov@nbu.bg ;
In person: at New Bulgarian University, building 2, office 413
Scholarships/Awards
Participation in a concert with a symphony orchestra during the next musical season
Concert in Bulgarian cultural center – Warsaw, Poland.
A Scholarship for covering the tuition of one course at NBU by prof. Angelov
Participation in a concert during one of the following Bulgarian festivals: "Piano Extravaganza", "Varna Summer" or "Sofia Music Weeks".
The best participant in the Master class will be invited as a soloist of "Camerata Orphica" - the Academic Orchestra of New Bulgarian University and also as a performer in a concert "Young Talents" - a concert cycle "Soloists-Interpreters" at Bulgaria Hall in Sofia.
For further information please visit Facebook